It's weird how stuff goes down.
Just last week I was lamenting about how I was not sure where/what my next race would be. I was actually quite okay with that, as I'd like to have a break from structured running and training. Plus, training in Colorado through the dead of winter means all kinds of frozen snot, slipping on ice and nightmares for my
Raynauds
-affected feet.
Can you even tell which one is me?
Then my friend Sylvie tells me she is running the
Paris Marathon
. And I was like...Mon Dieu! OMG. I got a wild hair and decided to check flights knowing a trip like that would be way out of our price range and not at all feasible. You know because I have a kid in college and am a social worker. This combination means one thing: Ramen (or at least organic whole wheat spaghetti noodles with Prego sauce).
That is the moment it all fell into place.
Tickets were only $450 round trip. Yes. You can barely go from Denver to some field in northern Wyoming for that. (My brother said, "
WTH? Are you flying Spirit?
" Hah!) Then I realized the race fell the day before Emma's 16th birthday. What teenage girl doesn't want to spend her sweet 16 in Paris? I believe I spent mine eating tacos and listening to Foreigner. Then I remembered, holy shit - holy merde (<Google translate = holy shit) -
I turn 50 in February
and everyone keeps asking what we are doing and this is what we are DOING.
For me, an epic and ideal birthday includes travel/racing/family/friends/wine. Voila.
Sure, the race falls almost a solid two months after my actual birthday, but when you are turning a half century old, you kind of get to celebrate for the whole year or that is what I am going with. Plus, I'll be in the 50+ age group and might actually have
a chance at a 2nd BQ!
So, the flights are booked, the apartment is rented through VRBO (and it's called Chateaux Monmartre...really?) and I'm registered for the race.
Probably doesn't exactly get any more real than that.
Fun fact. 57,000 people sign up for this race. Here they are: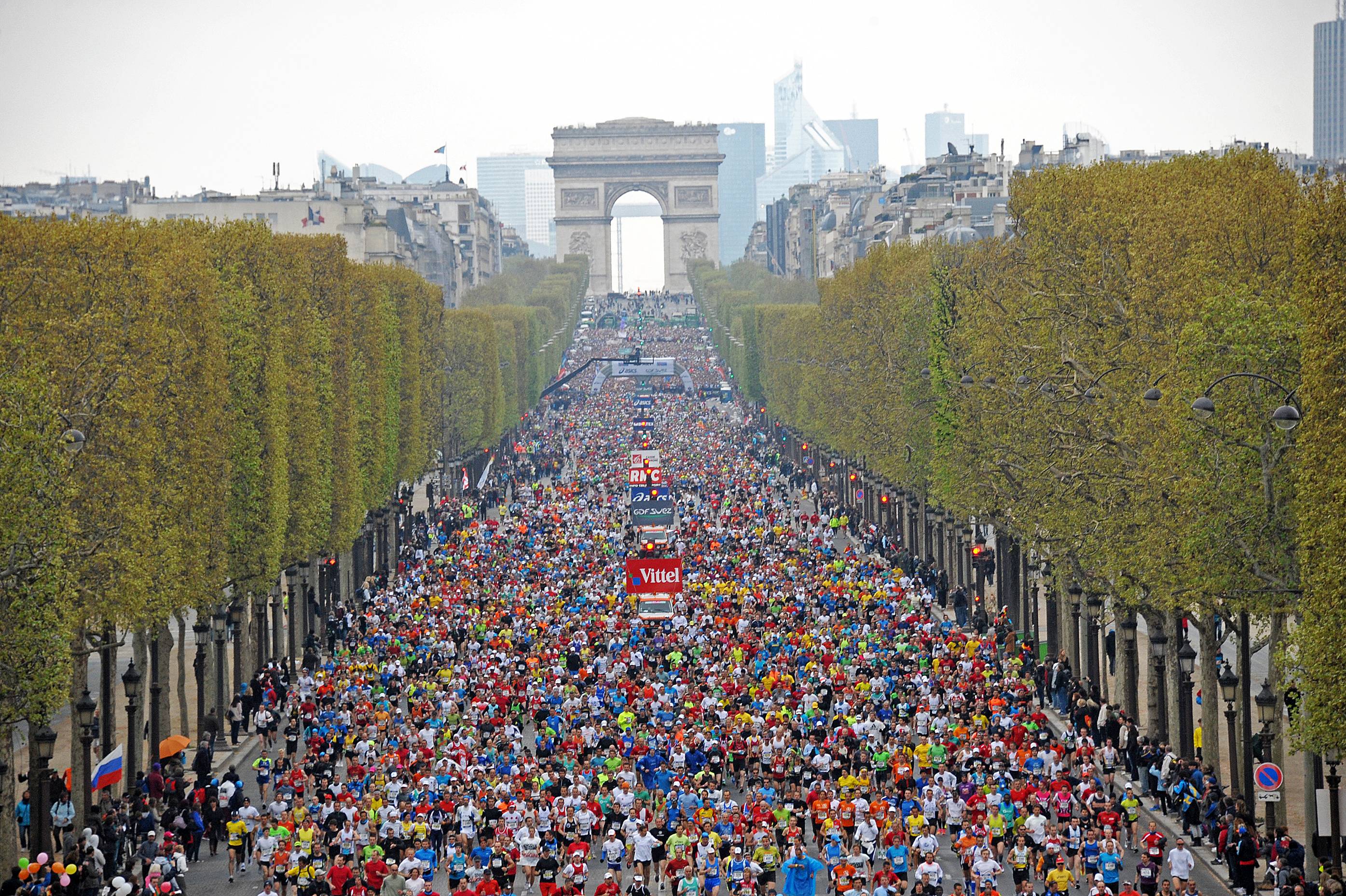 And, there is apparently a real lack of potties along the way so public urination is a thing! Peeing at the Arc de Triomphe! A dream come true for this 50 year old American tourist.
I've probably told you this before, so I'm sorry if I'm boring you - but Paris holds a special place for me. I spent a semester there in college and was a French major. I never guessed that life would make full circle in this way and that I'd be bringing my 16 year old daughter and husband of 21 years back with me to show them the city. And, that I'd be able to actually run a a marathon.
Here I am 28 years ago, when I was 21, in Paris looking as foxy as ever.
Don't be jealous of my loafers. I'd like to say they were in fashion, but probably not.
So there you have it. My first race on the calendar for 2017 and it's the dream of a lifetime for this girl.
What is your ideal way to celebrate a birthday milestone?
Hey, don't forget about my
$100 giveaway
. Get yourself some running stuff.