It's not like I'm Rick Steves or anything, but I do have a few trips to maximize your money and your fun in Paris. I lived there in college and just traveled there so basically I'm a travel expert (not). I'm a huge fan of not being a typical tourist, and seeing the real ins and outs of how "real" people live in a place. Of course you've got to hit some of the tourist spots, just because you DO, but then it's fun to do things the locals do too. Here are some tips to actually be able to afford your trip and what to do once you're there:
1. Book Early
: The one and only reason we could make Paris happen financially was that back in October I got wild hair and checked ticket prices. We could fly United/Lufthansa round trip for only $450 per ticket. That was insane. You can hardly go from Denver to anywhere, USA, for that. (btw, Lufthansa rocks. After they feed you, they come through with Baileys and Cognac. The flight attendants also wear cute hats).
Not my flight attendant. Not my pillow.
2. Use VRBO, AirBnB or One of Those
: There were going to be four of us, and the thought of being in a hotel room for a week with four people wasn't that attractive. Plus, hotels in Paris are stupidly expensive. So, to VRBO I went, having had good luck with this service in the past. Turns out we could rent a 2 bedroom apartment with a full kitchen and amenities for $185 per night (that includes the cleaning fee). Way cheaper and roomier than a hotel.
3. Know Where to Shop
: I did some research on our neighborhood beforehand and found local grocery stores that were for "real" people, not tourists (we liked Carrefour). We shopped there for the basics like wine, cheese, bread, produce, coffee and snacks. I actually found a kick ass bottle of Chardonnay for 4.5 euros (about $5, I don't remember the name because maybe I had too much of it). A huge wedge of brie was $2 and baguettes were about $1, if that. While we didn't cook in many meals, we saved a lot by eating breakfast, snacks and coffee (Nespresso!) in the apartment.
One thing to remember! When buying produce, you weigh and price it yourself. Don't forget to do this or the check out person will be really mean to you (I took the wrath of that one).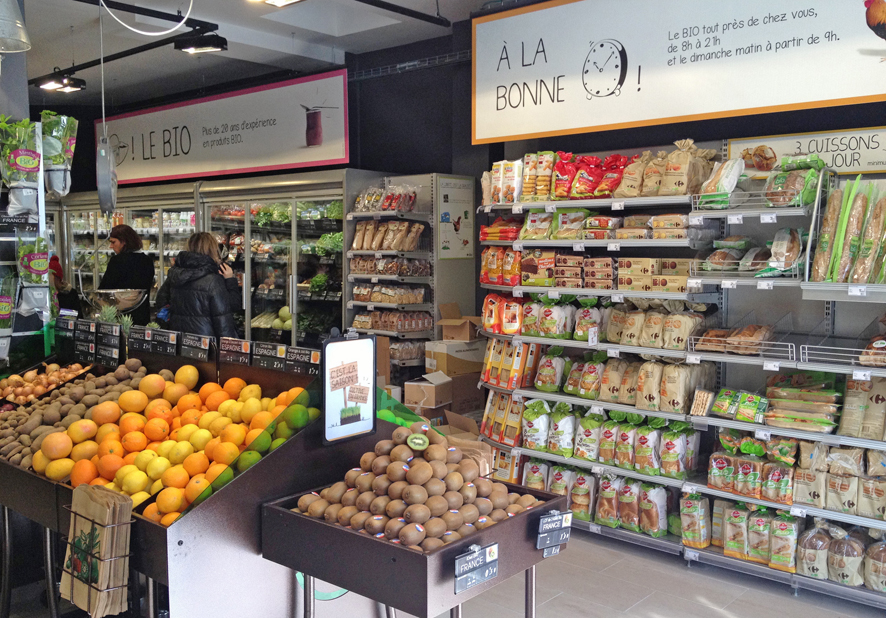 4. Use Local/Public Transportation
. We rode our butts off using the metro. Fares were about $1-$2 per person. Much cheaper than a cab or Uber. Plus, you really get to mingle with the locals (and smell their B.O.) and there are often musicians on the trains. We did use Uber twice when we were all so exhausted we could barely stand up. Uber rides were only about $13 for four people from one end of Paris to the other.
At first, the Paris metro is kind of intimidating because there are so many stops and lines, but you get the hang of it. There is
an app
(I'm sure most cities have them) where you can type in your location and where you are going and it tells you the best and most direct route.
Looks confusing, eh? The app helps. And glasses.
5. No Tipping!
We weren't sure how this worked, but we did some research while we were there and found out that in general, the tip is included (service compris!) in your meal price, so no extra for that. Certainly, if it's great service we would leave a couple of extra euros. Cab drivers do expect about 15%.
Just yum. I drank this in a minute.
6. Check Your Phone Plan Before You Go
. If you have T-Mobile, for example all texting and data is included in your plan. Ken has Verizon and he had to pay an additional $10 per day for data, talk and text.
7. Consider a Mini Photo Shoot for a Special Occasion.
My daughter, Emma, turned 16 the last day we were in Paris. I wanted to mark it by something special (cause you know, being in Paris isn't enough). I found a local photographer who did "photo shoots." I booked the day before and we met him at the Eiffel Tower on her birthday morning. It was really unforgettable. You can check out his work and website
HERE
at I Heart Paris Photography. Here are a couple of pictures I took (these are obviously not his professional photos!)
8. If You're Going for the Marathon, Also Do the Breakfast 5k.
This is the best deal around. For about $10 you get a cool tech shirt and croissants/coffee at the end. Also, you get to run through the streets of Paris with a flag representing your country!
9. Avoid the lines at the Louvre
. Okay, well it may be impossible to
completely
avoid the lines, but we went inside (underneath the Pyramid) waiting for about ten minutes to buy tickets and then waited in line inside to get in (about 10 minutes for security and another 5 minutes for the entrance). The longest lines were outside by the Pyramid.
My friend and his penis
It was crowded! By this time we were sick of all people!
10. Do the Fat Tire Tours
! A friend recommended with do a bike tour in Paris with Fat Tire Tours. This meant having a guide to take us on about a 10 mile bike ride in the evening from the Eiffel Tower to Notre Dame. We stopped at Berthillon the most famous ice cream place in France (omg the salted butter caramel is orgasmic). Then you take a one hour nighttime cruise on the Seine. If you add on a tour of the Eiffel Tower summit for another day (with no waiting in line) then you get an additional 30% off. Both were amazing tours.
One of the many sites we took in on the bike tour. Le Louvre Pyramid at sunset.
I'm basically a professional iPhone photographer
11. Be Sure to Frequent the Patisseries and Boulangeries (bakeries)
. Here is where you get the best deals. Satisfying mini quiches, melt in your mouth almond and chocolate croissants, Croques Monsieurs (grilled ham and cheese) - all for each under $3. And, these are pretty much on almost every corner.
At the Patisserie up the street from us.
12. Always Wear a Scarf
. Just trust me on this one. All men, women, children and babies do it.
Well, that's all I've got. I am in love with Paris, but more so, I'm simply in love with traveling. One of my favorite sayings is "
Travel is the best education anyone can have
."
What's the last place you've traveled to? Any tips to share?
Where would you go on your dream trip?
Probably India or Africa
SUAR
PS: And a bonus tip. If you eat a really big kebab sandwich for lunch and are walking around Paris and need a bathroom ASAP, Chipotle has nice, warm restrooms to accommodate your emergency. Not that this happened to me or anything.