It's hard to wrap my weekend up into a neat blog package, so let me break it down into categories - what surprised me, what I liked best and what sucked. Simple enough.
What surprised me:
Deciding to race all three races. I trained for this weekend like I was training only for a half marathon. On Saturday when we had the 5K and 10K spaced an hour apart, I decided to run hard but manageable. I might have been slightly regretting that when I woke up on Sunday to do the half. I made a choice to ignore my aches, pains and internal bitching.

33/428 for women, 2nd in AG!
The whole BYOB thing. We went out to dinner in Bethlehem. You know me - by the time I get to dinner I have been planning all day what type of alcohol I am going to consume (yes, even when I am racing). How surprised was I when we got the restaurant to find it was all BYOB? I learned this is because they don't want to renovate/expand the historic Bethlehem buildings to put in bars, etc. Note to self for any future visits to this place.

The Mushroom Tacos. I love the Runners World Cookbook, but I have to admit the mushroom taco recipe was not something I was going to make. We were served a couple of meals that came completely out of the cookbook and the tacos were on the menu. They were incredibly outstanding. Make them now. But only if you like mushrooms. If you don't, you will hate these with a passion.
That I finally made it to the cover of a magazine. Yes, I'm farting. Sorry Katie.
That it would be so easy to bond with my room-mate Katie. In my late teens and 20s I thought nothing about sleeping with whomever (don't take that the wrong way) – I mean I had no hesitation about staying in rooms with people I didn't know that well (like in a youth hostel – I'm not a slut). But at 47, it feels a bit awkward. Katie was the coolest (and not just because she just got her Olympic trial qualifier with a 2:41 marathon). She was incredibly nice and easy to be with. She didn't smell or try to spoon me at night either.
Free skirt during the race. At mile 9 of the half marathon, Running Skirts was giving away free skirts. All you had to do was put it on over what you were wearing and wear it to the finish. SCORE. I never turn down free.
What I liked best:
Bethlehem itself. I had no clue how gorgeous and history-rich this town would be.
The iconic Bart Yasso
The hilarious Mark Remy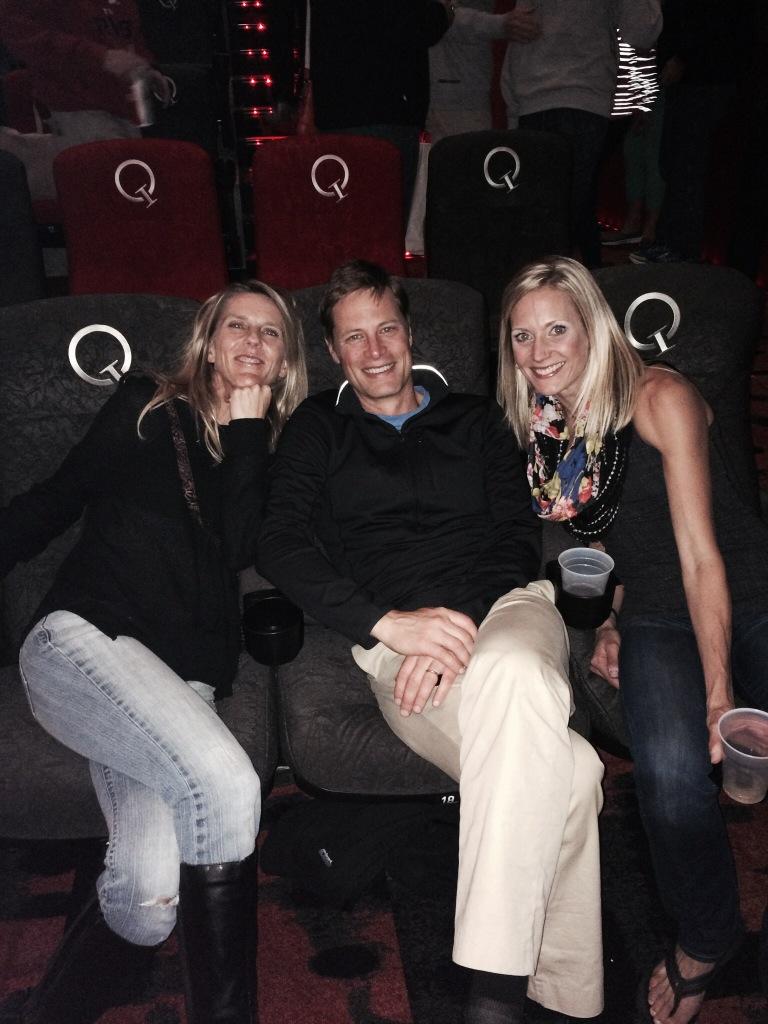 The witty and adorable Chief Editor David Willey
Meeting my first comedian in real life –Liz Miele (with my empty beer cup). Stinking hilarious.
Running into online friends I'd never met before (and the fluorescent hair made Lonnie even cooler – and the fact that Bart photo bombed)
What sucked:
Hills – I may be overly dramatic, but there was a lot of up and down going on, especially in the half. Repeatedly.

Constipation –Yeah I know what you are thinking. For a girl who talks about poop so much, constipation is ironic. Yet, when I travel, stuff doesn't move as well. There is no First World Problem worse than not being able to poop on race morning.

Delayed flight out of Philly. I was delayed leaving on Sunday night and got back to Denver LATE. It wasn't all bad because I ate this sucker. When in Philly…
Non-working escalators in the airport. I think this is a joke the airport was playing on those of us who ran 23 hilly miles over the weekend.
All in all an amazing weekend. Thanks to Runners World for sponsoring my involvement in this event!
What's the hilliest race you've ever done?
Does your "schedule" get thrown off when you travel?
Tell me one thing that sucked and one thing you liked about your weekend.
SUAR