I get lots of random requests to test products and do reviews, as I'm sure many of you do too. Although I've had some real winners (hello,
Sleep Number Bed
!) some of the requests I get are for odd products like the Squatty Potty (already have one) and the Diva Menstrual Cup.
My point is, I don't always take companies up on their offers unless there is something intriguing about the product or it is something I think I could really get behind. Here are a few of the newest things I've tried.
1. The Ampla Shoe: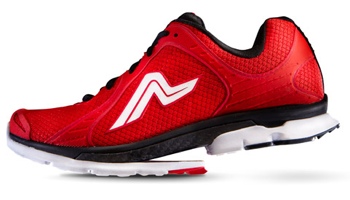 Talk about unique! I was quite curious about these, but also very skeptical. I still kind of am. Here's the item description:
The Ampla Fly is a running tool that empowers the efficient use of force. It encourages better mechanics, which provides a platform to help you run faster, run farther and become the beautifully elastic athlete you were meant to be.
Neat concept. I tried them for a run and yes there is some springy-ness to the shoe and it's comfortable, I am not certain, however, that I'm sold on running in this much of a shoe, or one that has this type of structure. Anyway, they are a fun and trendy time to try, but can't say I'll be logging long miles in these.
2. The Skechers Go Run Ride 5 Shoe:
I am an official blogger (see profile
HERE
) for the
Bolder Boulder 10k
that takes place every year in Boulder on Memorial Day. About 50,000 plus people do this race and it's kind of our thing as a family. As part of blogging for the BB, I was sent some products. Skechers is the shoe sponsor, so I got these to try.
I think it was funny when I picked them up someone said, "
Oh you'll never wear those, they don't have much support
" You don't know me, woman.
Here's the thing. When I first started running I wore a pretty heavy and overloaded shoe because I thought lots of cushion and stability was a good thing for long distance running. I'm not saying it's not, but I am saying it's not for me. Going to a lighter, more neutral and lower heel-to-toe drop shoe has helped me to improve my form (i.e., mid strike) and feel lighter. I happen to
love
these shoes because they are extremely lightweight and non-bulky.
3. These Under Armour Rival Sunglasses
:
I have one good pair of running and cycling glasses (Oakleys). I am a fan of the Under Armour brand so I was anxious to try out these new glasses. They are bigger than the others I wear, so for running I probably wouldn't use them much. But for cycling?? They are the bomb.
With cycling you get a lot more wind, elements, bugs, in your face. These give better coverage and I'm really love them. I dig the blue lens too. They fit really well and provide 100% UVA protection.
4. These CozyPhones Earbuds.
This is the coolest concept. Earphones within a head band/ear warmer. I hate it when my earbuds constantly slip out due to wind, sweat, etc. This is the perfect solution to keep them in place. And the sound is excellent. Only downside is that in the summer these would be way too hot to wear. But, for fall/winter/early spring - perfection.
Want to try a pair? Enter the giveaway and I"ll send you one just like mine.
a Rafflecopter giveaway
SUAR