Remember how I told you I was doing a century ride (that's a decade ride time 10) with Venus de Miles this weekend? Well, now I'm not.
All events around here that require use of public roads have been cancelled for the next 30 days due to the flood. If you can believe it, this road below was one of my most favorite roads to ride on, pre-flood. I would ride it at least once per week. It was also a recommended running route in Running Times last month.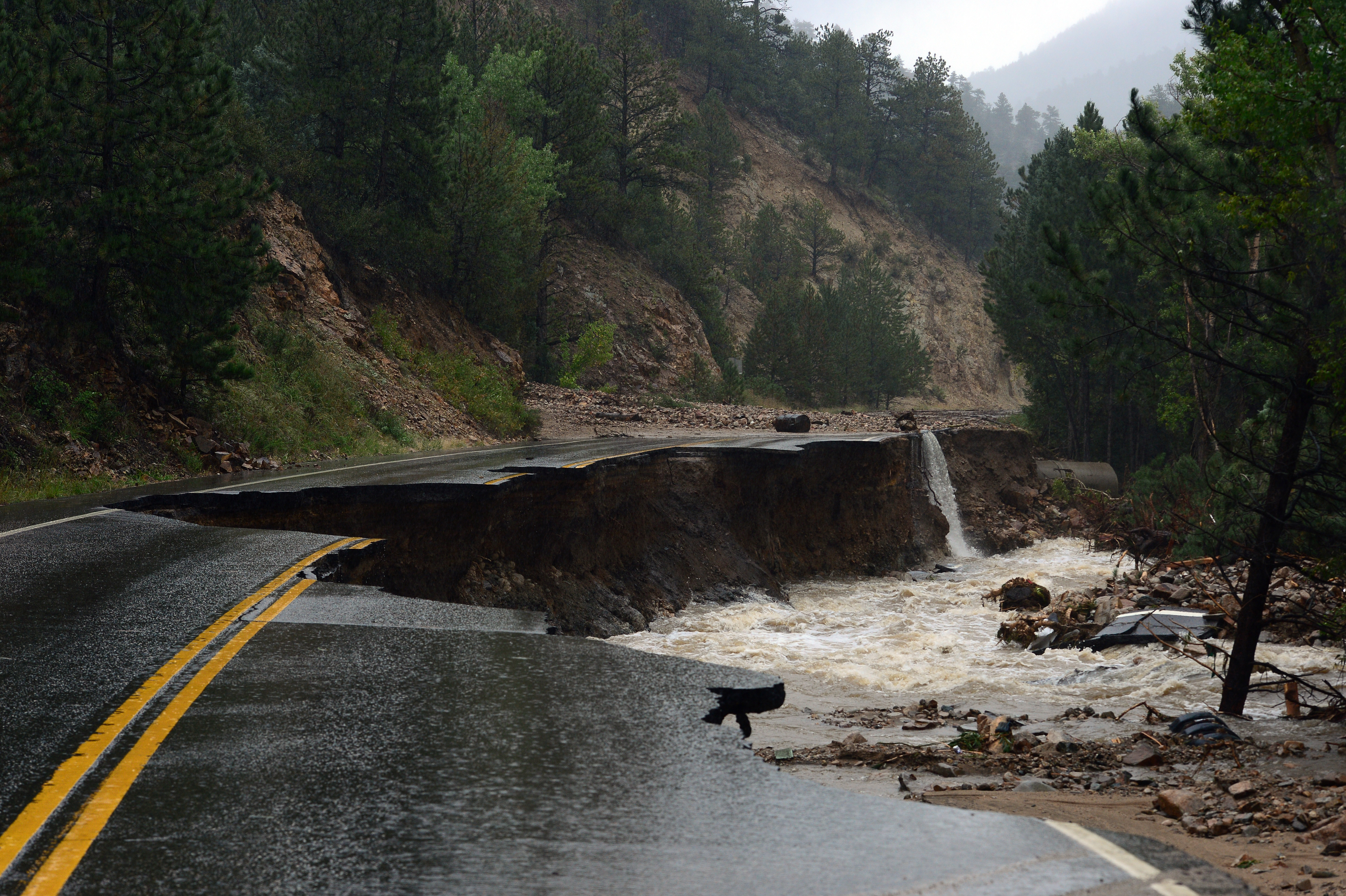 The riding event this weekend was supposed to take us on this road. I know that many people have lost their possessions and their homes. We have been so very fortunate to not have experienced that. It pales in comparison, but I have lost quite a few of my favorite riding routes and running trails. They are like old friends to me, so it makes me sad. This one is still closed:
In lieu of the ride, participants are going to be volunteering in flood relief efforts. There were several choices regarding volunteering – I chose "Boulder Mudslingers" because it means digging out houses, helping the elderly pack up their belongings and load trucks. I like being dirty.
This was the first mud race Ken and I ever did – way back in 2004 before I even started running.
I still have a 100 miles to ride this weekend for training. I'm breaking it into three 2 hour loops and I'm begging anyone who knows how to ride a bike to join me because I am sick of myself. I spend millions of hours a week training, most of those hours by myself. I'm really starting to get on my nerves.
Everything has been massively switched around for me this week. Although today was supposed to be a rest day it was an anti-rest day with 4 hours of workouts (my new rest day will Sunday when I volunteer):
Bike 3 hours ~ 52 miles
Swim 1 hour – 3,000 yards
I hardly recognize myself anymore because there was a day in the not too distant past where 4 hours of training in one day would have fazed me quite a bit. I'm not bragging, I'm just saying it is astounding to me how the body and mind adapt.
I know I'm lucky to have a schedule that permits these kinds of days. I work from home, and only about 25 hours per week. When I do home visits with families, I schedule them around my family and my training. I can get up early and write or stay up late and write. I can write in my underwear, I can write by a tree, I can write in a tent, or in a house by the sea (that is me channeling my inner Dr. Seuss. I can still recite all of those books from when my kids were little. My favorite of all time is still Green Eggs and Ham).
I read it to Heidi now because my kids are too cool for this sort of thing.
~~~~~~~~~~~~~~~
How do you coordinate your training around your work/family schedule? Do you work from home? I've been doing my job (writing home studies for families who want to adopt or do foster care through social services) since Sam was born 15 years ago. It's a great fit for our family.
Favorite kid's book? I have so many. I always loved Bread and Jam for Francis, anything Richard Scarry and Love You Forever.
SUAR