Now that you've had 36 hours to catch up on the premier of the Biggest Loser and to digest every morsel (Jennie O Turkey, Extra Sugar Free Chewing Gum), let's talk.
The good:
1. 'Vett the New Trainer: I'm really digging this dude. I have never heard that name before, have you? I think it means "lean muscles of beauty" in some language or another. I always thought a dolvett was a cover for a comforter. Or maybe that's duvet.
Anyhow, this duvet reminds me of a tough boot camp dude, like from the movies. Remember Officer and a Gentleman? GET UP MAYO!! ARE YOU A PUSSY? Yet, Dolvett's got this softer, gentler side. Based on the other night, if he was my trainer, I would want to meet his expectations and not let him down. I think he would push me to and beyond my limits. He would motivate me. He's got that "Shut Up and Run" attitude. And, holy shit when he takes off his shirt, major eye candy. He is the total package, and speaking of packages… or at least that's how it came across last night.
I did a little poking around on Dolvett and here's what I found: He's 38. He opened his own fitness studio in 2004 in Atlanta training and transforming clients. He helped one guy lose 325 pounds. He's trained big names like Justin Bieber and Janet Jackson. His favorite name is Beth and he likes small breasted women (okay might have made that last part up).
2. The marathon! The marathon is back and with a twist!! I know it's debatable whether people should lose this kind of weight and train for a marathon in a short period of time. I get that and can't say I disagree. But, it's kind of like putting extra cheese on your pizza, you know you shouldn't be a fan of it, but you are drawn in and cannot help yourself.
3. No puke scenes. This has to be a first ever for the season premier of TBL. I have a vomit phobia and cannot even watch it happening on TV, so this was good news for me. I would add a picture but I'm too afraid to do Google images on "Biggest Loser Puke." Go do it and tell me how bad it was.
The bad:
1. Bob's receding hair line and slicked back hair.
2. Splitting teams up by ages. Not a fan.
3. The fact that the older team walked the first challenge instead of trying to run just part of a mile. C'mon it's the Biggest Loser. You've got more than that. Yes, I'm judgmental.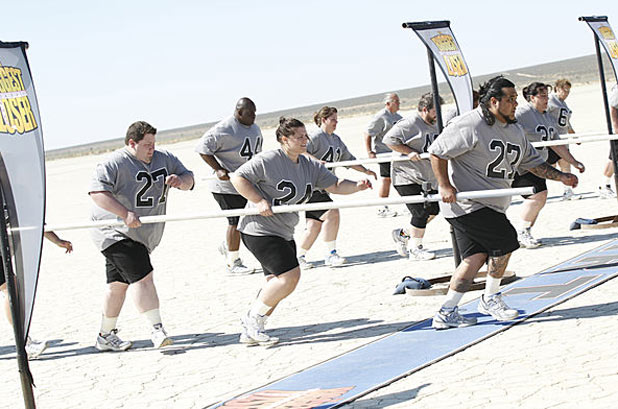 4. Anna (ah-nah). Let's talk Anna. I went in with an open mind, well sort of. Honestly, I thought she was very weak. She simply does not have the presence or energy to be a trainer in this capacity. I don't think you have to yell and scream, but there is a certain charisma that a trainer on this show needs to have. Yes, she is gorgeous, with perfect skin and a kick ass body. And, she can cry at the most opportune moments. But, she doesn't have the "it" factor that a BL trainer needs to have. Maybe she'll prove me wrong. Would be kind of cool if she did. Put me in my place. Wouldn't be the first time.
What did you think of the premier?
Yay or nay on Anna? Or, is it too soon to judge?
Did Dolvett do it for you? What is a Dolvett?
Did you dig Bob's hair?
SUAR