FREAKING 2:03:38.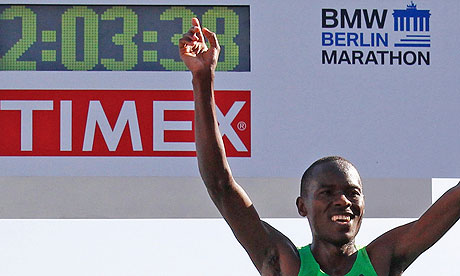 A new marathon record was set yesterday by Patrick Makau, age 26, of Kenya. A faster time was run in Boston this year (don't make me look it up and no I did not memorize it), but it did not count due to a net elevation loss on the course, the tailwind and the fact that the course is point to point.
I ran the Boston Marathon this year and I was not aided in any way by the tailwind or net elevation loss. In fact, I ran as if I had a headwind and 5,000 feet of elevation gain. But that is just me. I guess if I had had a pacer with me like Makau did I might have run a sub 2 hour race. But, in the end, I would have still have had that stop in the porta potty where I had to remove my underwear and throw it away and I think that added at least ten minutes.
2:03:38 is just a time on the clock. It sounds very, very fast and is the time that many of us do for 13.1 miles, not 26.2. But, to make it even more real for you, a 2:03:38 marathon time requires an average pace of 4:43 minutes per mile. I could crap myself just thinking about it. In my wildest dream I do not think I could even run a sixteenth of a mile at a 4:43 pace. I do not know what to say about someone who can run that fast except that I cannot bow far enough onto the ground to express my respect and admiration.
Here are a couple of fun facts about Makau:
He began to "train seriously" only 10 years ago
Starting at the age of 10, he would run 32 km per day to and from school (19.9 miles). He never aspired to be a world class runner.
He started running with hopes of emerging from a life of poverty.
He is from a very rural part of eastern Kenya where there are few runners. His parents were farmers. Initially, he did not attend training camps that many Kenyan runners are a part of. He trained alone.
His North American racing debut was the Healthy Kidney 10K in New York City in 2008. He ran a 28:19.
No one else in his family runs.
With his earnings, he bought his family a coffee plantation.
A typical training day includes getting up at 5:30 a.m. and meeting friends for training. Once a week they do along run of about 20 miles at a 4:30 min/mile. He comes back home after to have breakfast and tea. He rests for an hour then does some work (real estate). He east lunch and goes out for a second training run.
He believes it is possible that a marathon can be run in sub two hours. He expects this will be done someday by a Kenyan.
Do you think a sub 2-hour marathon will happen someday? I do. Yep.
SUAR
PS: The winner of the Anne Franklin Designs Necklace Giveaway was #204, Life As a Convert. Email me at beth@shutupandrun.net and I'll let you know how to get your prize!!