Ken has started getting up at 2:30 a.m. to go to a boot camp class (okay, he gets up at 5:00 a.m., but it feels like 2:30 a.m. and embellishment is my forté). If I haven't told you this, Ken is one of the most disciplined people you will ever meet. In fact, four years ago he decided to stop eating dessert and literally hasn't had a bite of it since. Who does that? Who can do that? Don't get me wrong, he eats sugar in yogurt and protein bars, but the guy has not had ONE DESSERT (not cake on his birthday, not pumpkin pie on Thanksgiving) in four years.
Ken and Sam running the Longmont Turkey Trot 10K - 2010
So, when Ken says he is doing to do something, he does it. And, because we share the same bed and I can't stay asleep for shit, I am also getting up at 5:00 a.m. This means I go to bed at 6:00 p.m. (okay, there is the embellishment again. Can't help it. Really, I go to bed around 9:00 p.m.).
BTW (or "bee tee dubs" as my son says), there is nothing more gorgeous than me in the morning, so don't even pretend you look better than I do right now.
I now understand how it happens – the gradual progression towards the senior/AARP lifestyle - the early bird buffet dinners and the ass-crack-of-dawn mornings spent walking laps around the shopping mall. When my time comes, however, I will not walk around the mall. I will sprint. I will zoom by the Gap, Cinnabon and Bath & Body Works. I will use a foot pod on my shoe to track mileage. I will wear a fuel belt and eat gels. I will talk only about zero drop shoes and Boston qualification times. I will be the coolest senior on the block.
The picture below is not me or anyone I know. This is what comes up when you Google "old person running." This is Ed Whitlock (in Toronto, 2003), who at age 72 was he first person to run a sub 3 hour marathon. I don't know if he is having fun at this point in the race.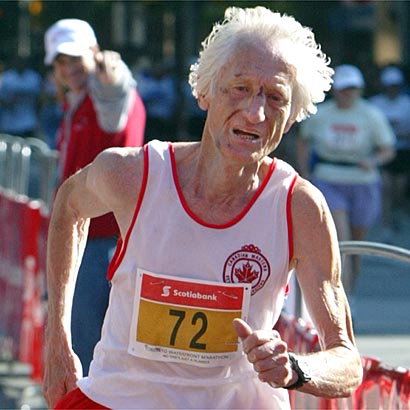 Being up so early, I had time to read an insightful article, 12 Things to Start Caring About Today. This is found on a blog I just discovered and am loving called Marc and Angel Hack Life. This is not a running blog – gasp! It's musings on everyday important stuff related to health, aspirations and self improvement.
I already care about a lot of things, so I don't really want someone to tell me more things I need to care about, but this was a solid reminder to remove the head out of the ass. Here are some highlights (you can read the whole thing HERE – below are not the 12 things, but just some quotes from the article):
If you want to know where your heart is, look where your mind goes when it wanders. As Steve Jobs once said, "Your time is limited, so don't waste it living someone else's life."
Right now, someone on Earth is planning something for tomorrow without realizing they're going to die today. Remember, what you do every day matters more than what you do every once in awhile.
In your quiet moments, pay attention to your self-talk. Because maybe, just maybe, the only thing that needs to shift in order for you to experience more happiness, more love, and more vitality, is your way of thinking.
You must love who you are or no one else will either. And when you are truly comfortable in your own skin, not everyone will like you, but you won't care about it one bit.
Life is too short to spend time with people who suck the happiness out of you.
Exercise to be fit, not skinny. Eat to nourish your body. And always ignore the haters, doubters and unhealthy examples that were once feeding you. To truly be your best, you must give your body the fuel it needs
Don't worry about what others are doing better than you.
Wake up each day thankful for your life
This moment is your 'life.' Don't miss it.
How many hours of sleep do you usually get? I aim to get at least 7, but preferably 9.
Find any new blogs you like lately? There are SO many good ones. My new reads are Marc and Angel and the No Meat Athlete.
Any signs you are getting older? Yes. Hair on my upper lip.
Off to grab breakfast, drop kids and RUN.
SUAR