If you are training for a race and are scared/uncertain/psyched-out, if you've ever wanted to quit when the going gets tough, if you have a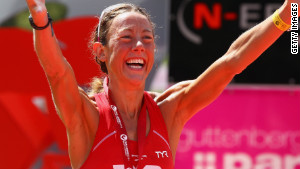 history of pushing yourself but find that your brain sometimes doesn't work in your favor - YOU need to read an article posted on CNN Health today. It was written by four-time World Ironman champ, Chrissie Wellington. She reminds us of the importance of training our minds, even ahead of training our bodies. She states, "All the physical strength in the world won't help you if your mind is not prepared."
We've heard it before – train your brain. We know that mental strength is a huge component to meeting our goals. Yet, how much do we diligently and conscientiously work on developing the brain power that is so desperately needed when every cell of our being wants to stop, when every fiber of our muscles is screaming for mercy, when we just don't feel like doing it anymore?
Mental strength is not only for racing. It is for every day training. It is what gets us out of the door in the morning to run ten miles. It is what gives us that extra push when it's raining and cold and we'd prefer to walk to the nearest 7-11 for a pussy pick-up from our spouse or mother-in-law. It is what keeps us in the game for 16+ weeks of marathon or tri training.
Chrissie gives some excellent tips for improving mental strength:
Have a mantra and/or a special song to repeat – Chrissie says, "I write my mantra on my water bottle and on my race wristband. Seeing it gives me a boost and reminds me never to let my head or heart drop."
For me, my favorite mantra is, "Pain is temporary, quitting is forever." This always brings me back to a place of knowing that I will not be this tired, uncomfortable, crampy, pukish for the rest of my life.
Keep a bank of positive mental images – Wellington tells us these images can be of family and friends, of previous races, of beautiful scenery, or a big greasy burger. She encourages us to draw on these images when we want to quit. and tells us to punch out the negative thinking before it manifests.
My mental image is often my couch, a book, a custard filled long john and a hot cup of coffee. Or a hot bath.
There is nothing to see under those bubbles
Practice visualization beforehand – Her advice? "Relax your mind and go through each stage of the race one step at a time -- mentally imagining yourself performing at your peak but also successfully overcoming potential problems." She reminds us that Before Michael Phelps has even entered the water, he has already completed the race in his mind. And won.
Personally, I often drive the course before a race so that I can imagine myself on the course and how I will cope at certain sections (hills, etc.). If possible, training on the exact course where you will be racing is an amazing way to make your visualizing very specific. I did this with my 70.3 triathlon last year and it was immensely helpful. I am certain that is why I far exceeded my expectations on the bike portion.
Break the race up into smaller, more manageable segments – This has been one of the most important racing techniques for me, personally. For example, I break my marathon up into 4-five milers with a 10K at the end. I like to focus on getting to the next aid station and telling myself I can grab a cup of water and walk through if I'd like.
Chrissie reminds us, "Stay in the moment and don't think too far ahead. I also try to breathe deeply and rhythmically; if you calm your breath, you can help calm your mind."
Remember that training is about learning to hurt – This is difficult if you can be a pussy like me. "Push your physical limits and overcome them in training sessions, so that when you race you know that you have successfully endured pain and discomfort. You will draw confidence and peace of mind from this knowledge," Chrissie tells us. It's okay to cry if you need to.
Get people to support you – If it feels right for you, invite people to come out and support you. In the words of Will Ferrell, "More cowbell please!"
Little Emma waiting for her mama at the Phoenix Rock 'n Roll Marathon 2009
Mentally recall inspirational people – When I ran Boston last year with very little training, this was one of the most important things that mentally got me through the race. At that time, my son's teacher was fighting for his life after getting a serious bacterial infection. I wore a bracelet dedicated to this teacher and when the going got tough (which it did for every second beyond mile ten), I felt the bracelet on my wrist, and remembered Mr. Cribby (he ended up winning the fight and is now back teaching full time!). In the future it will be Sherry who gets me through the tough parts of races.
I am fake smiling here. I was hurting. You can see the red Cribby bracelet on my right arm.
Consider racing for a cause that is bigger than yourself – YES! Taking your racing to a higher level in terms of meaning and purpose. Chrissie states so eloquently, "Champions come and go, but to me the real judge of my personal success will be whether I actually do something positive with the opportunities I have been given."
**********************
How do you train your brain for races? Would you add anything to the list? For me, Chrissie covered the big ones. Sometimes it helps me to incorporate small rewards into my races – such as if music is allowed, I wait until mile 13 of a marathon before I "let" myself listen to it.
SUAR