Another tough post to write…
After last week's extradition hearing, you may have read in the news today what happened to Sherry in greater detail. The information is devastating.
Let me get it out. I hate them. HATE. I hate that evil exists and that horrendous, unimaginable, unconscionable things happen. I can be angry right now, that is fine. I will not stay there because they have already taken too much from my family, from the Sidney community, and from the world. They will not take my sense of well being and peace.
There is no way to sugar coat what happened or to make it less tragic, sad, and horrific. These men are evil, low-life, scum. I have tried very hard throughout this whole thing to not give attention to them, but to focus instead on what is good and right about people and about the world.
Here's what I know:
As humans, we have a unique and difficult challenge. We are given the awareness and understanding that bad things happen to good people. That people get sick and die. That there is suffering. That there is endless and abounding uncertainty every minute of everyday.
We all know that Sherry was a cancer survivor. At one time maybe she thought she would die from cancer. I am willing to bet she never thought her life would end on January 7, 2012, when she went for her morning run.
You see, we just never know.
If we exist in a place of fear and anxiety about what is coming, then we are not living, we are paralyzed. Our challenge is to know what we know about the ways of the world, and to still live fully and fearlessly.
I'm not talking about taking everyday precautions like running with a group and not going out in the dark. That's all fine, good and advisable. I'm talking about the bigger fearlessness with which we must approach life, knowing that it can be taken from us at any minute. Knowing that someone close to us might suffer and/or die. Knowing that today might be our last day.
Our unique challenge is to know about the "bad" stuff and to forge on anyway without breaking down into a puddle of anxiety and worry. We've got this one life and we can't waste it away hiding, being scared, not living.
Being safe is important. We wear seatbelts. We wear Road IDs. We tell people where we are going. We take self defense classes. We park under large street lights at night. We tell our kids to not talk to strangers. We make sure there are batteries in our smoke detectors. We need to do those things and to teach our children to do those things. This is responsible, sensible behavior.
Sherry was not being unsafe. She was running in her home town where she knew everyone, where no one locked their doors. What happened to her was so random, it was as random being struck by lightening. She was truly in the wrong place at the wrong time. If it was not her, it would have unfortunately been someone else.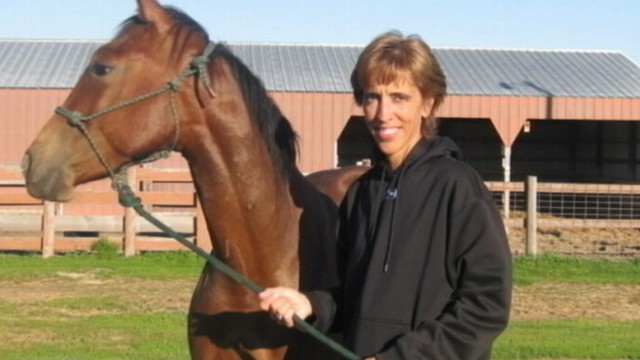 Tens of thousands of you came out to run for Sherry last Saturday from all corners of the world. There were millions of prayers said in her name. Over $9,000 was donated to her children. Many of you reported "signs" of Sherry while you ran - beams of sunlight breaking through the clouds and snow showers in places where it never snows. The score is tens of thousands to two.
There is no way to "make sense" of what happened, yet we all joined hands on February 11 in the spirit of love, compassion and unity.
The loss of Sherry is monumental and leaves an aching void for so many. Comfort can be found in knowing she's with us still – because the heart doesn't forget. I truly believe she's somehow nudging us to not be sad, to forge ahead. To laugh, to play, to remember. Every time I run, probably forever, she'll be with me.
This is what I choose to take away from all of this: Love wins.
SUAR