Today's workout involved 3 miles on the treadmill at a 3% incline, then an hour of yoga. I then headed down to see Matt Schaub at Handled with Care Massage for my second active release session. I told him I am gumby, I am running pain free, I am invincible. No, no. I am not those things. Once I start thinking I am those things, that is when I get injured. Bad SUAR. DASA SUAR (Dumb As Shit Athlete).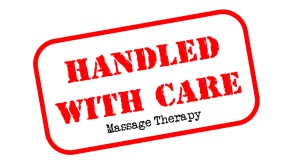 My body is not perfect (unless you like small boobs and a flat ass), there is still some discomfort and achiness, but I am encouraged because the pain is much less. I am beginning to feel "normal"again when I run. This is a huge improvement. So, if you're dealing with an injury and are in the Denver area - run (if you can) to see Matt. You won't be disappointed.
Look! This doesn't hurt. Is that gum on the bottom of my slipper?
The Las Vegas Rock 'n Roll Marathon and Half Marathon is only 19 days away, but who is counting? This won't be my best showing in terms of race times, I can promise you that, but I it will be my funnest. And, yes, funnest is a word and so is funner, so get off my back. I know I'll be in good company with Jason, EMZ, Aron, Sarah, Jess, Marjorie, Janae and lots of others. The great thing about having a blog where you tell all your secrets is that when you meet new people, they already know everything. Nice breaking the ice. Basically it goes likes this:
Me: Hi! Nice to meet you! (explosive fart)
Them: Hey! You are just like you are on the blog! (waving hand in front of face, backing away)
Another cool thing about Vegas is that I will be spokesperson for the Refuel with Chocolate Milk/Got Milk? campaign. This basically means getting the word out throughout the weekend about the benefits of low fat chocolate milk after a tough workout. Want to know more? Click HERE.
I've been with Team Refuel for a few months now and they've supported me in doing several races and have given me many other cool opportunities. For me, working with Team Refuel is a no brainer. I've long been a fan of chocolate milk as a recovery tool, so to pair up with these guys is a match well made. You can find them on Facebook HERE.
At the Georgetown to Idaho Springs Half Marathon
Other Refuel friends: Hugh Williams (@Runner Bloke), Running Yogini, and me.
Are you a chocolate milk fan after a tough workout? (There is a lactate-free version, you know). Around here we buy it by the gallon. I love the stuff. But I don't drink it unless my workouts are greater than an hour and have been fairly strenuous.
Who will go from the Biggest Loser tonight? Please let it be Bonnie. Please let it be Bonnie.
SUAR